True Vine Equestrian Center
Providing therapeutic horseback riding, equine companionship and professionally designed riding programs for physical, personal and spiritual growth.
Our Covid-19 Response Plan
Infectious Disease Preparedness, Response and Protective Actions
One or more staff will be designated to supervise during work hours.
The Supervisor will remain on-site all times other staff or volunteers are present to implement, monitor, and report on the COVID-19 strategies.
The Supervisor will designate a staff or volunteer to sanitize and disinfect brushes, helmets, boots and other equipment, portable toilet, and frequently touched surfaces such as door handles and gates.
Training will be provided to staff and volunteers.
Training in infection-control practices.
Training in the proper use of personal protective equipment.
Training in the steps the staff and volunteers must take to notify the designated supervisor of any symptoms of Covid-19 or suspected or confirmed diagnosis of COVID-19.
Training in how to report unsafe working conditions.
Six Foot social distancing will be required.
Everyone on the premises is to remain at least six feet from one another to the maximum extent possible, including through the use of ground markings, signs, and physical barriers as appropriate to any activities.
Gloves, Hand sanitizer and Non-medical grade face coverings will be provided to staff and volunteers.
Face coverings are required to be worn when staff and volunteers cannot consistently remain six feet from other individuals such as saddle safety check and during the mounting process. Hands will be sanitized during the safety check between riders.
Thorough facility and equipment cleaning and disinfection.
Protocols for tools, equipment and frequently touched surfaces have been adopted to ensure safety.
Brushes and Equipment sharing are limited.
Each staff and volunteer will have their own set of brushes, helmet, boots and training equipment to use each time at TVEC. These are to be kept in a designated area with their name on the items they regularly use or the items used must be put in the designated area for used items to be sanitized and disinfected.
Volunteering
We function off of an amazing group of teens and adults who volunteer their time to serve God and enable our ministry to run smoothly.  We welcome people of all horsemanship levels.
Riding Lessons
Have you always wanted to learn how to ride a horse?  Are you an experienced rider needing to learn new skills?  We offer lessons for beginners through advanced riders.  Come on out today!
Horse Clinics
During our day clinics, students will not only be challenged in their own horsemanship abilities, but also in their personal walk with God.  We offer clinics for riders of all levels.
Horse Rescue
We try to rescue at least one horse a year.  After rehabilitation, we either adopt them out to loving homes or keep them in the program.
Special Needs
Students get to ride and groom at their own pace, as well as participate in other activities to learn about horses and horse care.
Discipleship
Another aspect of our program is instructing in the basics of the Christian faith, either mixed into our programs or as a stand alone class.
NEW - 2020 Horse Clinics
We have announced the dates for 2020 Horse Clinics!  Please go to the Horse Clinics page for all the details!
NEW - 2020 Riding Lessons
We have announced the dates for 2020 Riding Lessons!  Please go to the Riding Lessons page for all the details.
NEW - 2020 Volunteering
Volunteer Training
Spring is coming! Although snow is still on the ground, lesson season at True Vine begins in less than 2 months. If you want to take lessons, check out our website at www.truevineequestrian.org to sign up. If you are interested in volunteering, here are a few things you should know for the upcoming year.
All volunteers are required to attend both Volunteer Training 101 and Volunteer Training 102 before helping with any True Vine activities or events. Volunteers must be 12 years old or older. You only have to attend a training once (so, if you plan to volunteer two days you do not have to come to Training 101 twice). However, you are always welcome to attend more than one training if you like!
Volunteer Training 101
April 6, 7, 8, 9 from 4:00 pm – 5:00 pm.
Volunteer Training 102
April 6, 7, 8, 9 from 5:15 pm – 6:15 pm.
Please RSVP using the information below. Be sure to bring your completed 2020 forms to Volunteer Training 101.  If these days/times don't work for you, but you still want to volunteer in Session 1,we can work something out. Any questions or concerns? Please contact Genevieve via the information below.
Genevieve McDaniel
Volunteer Coordinator, True Vine Equestrian Center
Email: volunteertruevine@gmail.com
Cell: 269-366-5047
True Vine Office: 269-501-0529
Stable Management Team (SMT)
SMT will meet on Mondays, Tuesdays and Thursdays from 3:30 to 6:00, starting the week of November 4.
In Stable Management you will have the opportunity to help groom and care for the horses during the winter. This is a great way to get more comfortable and experienced working with horses. You will learn horse care skills and ground work skills. As it gets colder, we stay outside for a bit and then come inside for hot chocolate and a brief Bible study from 5:30 to 6:00.
Be sure to dress appropriately for the weather (hats, gloves, dry boots, waterproof jacket), because it may be cold!
Each day has 5 slots, so be sure to reserve your spot quickly!
Monday has 2 spots
Tuesday has 4 spots
Thursday is FULL
Every year we have a number of fundraisers to help us rescue and support a horse.  Our current opportunity is a calendar featuring our rescue horses.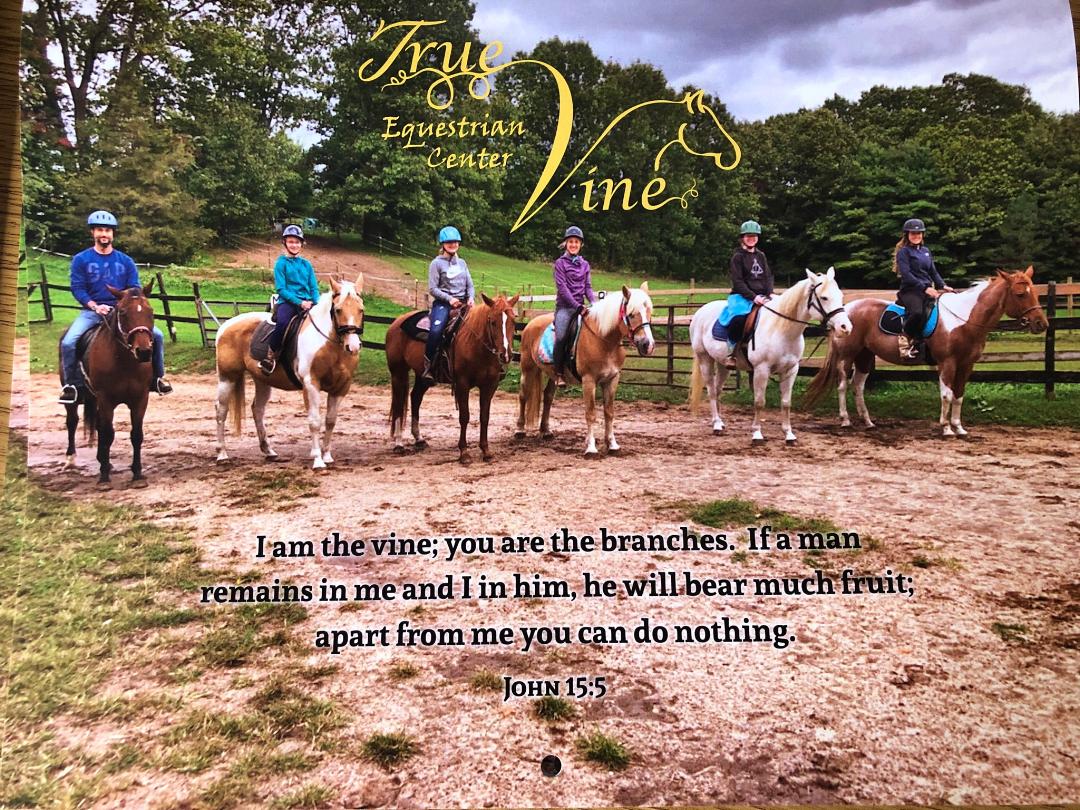 Executive Director Search
True Vine Equestrian Center is seeking an experienced, dynamic leader as the new
Executive Director for our non-profit organization. True Vine is a Christ-centered
horseback riding ministry.